Educational & Informational Home Stay
Island Style Country Breakfasts
Enjoy 100% Molokai grown coffee from Molokai's own Coffees of Hawaii Plantation. If you are a tea drinker, try some Tahitian tea or fresh hibiscus tea. I have herbal teas and yes, plain tea.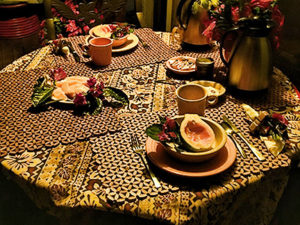 My home baked breads are the guests' favorite and don't miss out on poi bread, lime and coconut bread, Island fruit medley, pesto bread, mango muffins, sticky pull-aparts, Hawaiian sweet bread, and many other breads made with fresh ingredients.
I can cater to special needs with sufficient warning and guidelines (gluten allergies, vegetarians, etc.).
We are flexible about breakfast time, but like to be serving by 9:00 am since it is late morning by the time you've had a relaxing breakfast and we clean up. Molokai is a rural island and is custom – early to rise and early to bed. Sound to early? You can do breakfast on your own.
Our breakfasts are a hearty, country-style breakfast with a main entree such as:
Taro or poi pancakes (very moist and a delicious way to eat what is good for you)
Purple sweet potato pancakes (this harkens back to days of old)
Cheesy veggie egg pie (the most requested recipe)
Banana fritters (what else do you do when the bananas ripen all at once)
Baked tropical fruit cobbler (varies with the seasons)
Baked Hawaiian toast (very cinnamon and nutty)
Served with breakfast is sliced fruit (whatever is in season) such as pomelo, oranges, grapefruit, figs, bananas, tangerines, tangelos, etc.
All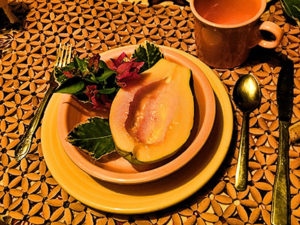 meals are served on the upstairs lanai so it is handy to my kitchen and you get a bird's-eye view of the loulu palm, shower tree, coconut palms, and Kawela Mountains. You are up close to the Japanese White Eyes, Red-headed Cardinals, Mina Birds, Zebra Doves, and other feathered friends that feed in the treetops.